"As we express our gratitude, we must never forget that the highest appreciation is not to utter words, but to live by them." – President John F. Kennedy
Thursday, Dec. 5 – Danielle Walker Campaign Kick Off – 6 to 8 p.m., Hill & Hollow, 709 Beechurst Avenue, Morgantown. Light refreshments will be served. Cash bar. All are welcome. Family friendly. RSVP and more info here: https://www.facebook.com/events/650968698760606/
Sunday, Dec. 8 Insulin Caravan to Canada – ACT NOW TO SAVE LIVES Insulin prices have risen to outrageous levels, and people with diabetes who cannot afford their medication are dying.
Delegate Barbara Fleischauer is helping to organize a bus trip to Ontario, Canada, where insulin can be purchased at a far lower price. The bus will go and come back in the same day – Sunday, Dec. 8 – but you must act now, as you'll need a valid prescription and a current U.S. passport.
Organizers also are accepting donations to sponsor people with diabetes who cannot afford a ticket, so even if you're not affected, you can help.
Participants in earlier insulin caravans report saving thousands of dollars over-inflated U.S. prescription prices. Tickets for the bus are $100 round trip. The bus will leave at 6 a.m. and is scheduled to return at 9 p.m., departure site TBA.
"This caravan will not only provide much-needed help to West Virginians; it will also send a message to policymakers about the high cost of insulin," said Delegate Fleischauer.
To buy a ticket or donate to help others who cannot afford the trip, visit https://bit.ly/31f7Ucw. For more information on scholarships or anything else relating to this trip, email insulincaravan@gmail.com
Please share this information with your friends and family and donate if you can. Time is of the essence, and lives are at stake.
TBD – Mon County Dems December meeting will be a holiday party. We will collect food and toys for distribution through local organizations. Time and place to be decided, please check your email and/or social media for more information.
**Submit an event for our calendar – Any Democratic officials or candidates for office in Monongalia County – or organizers of events for officials/candidates for state or national office but taking place in Mon County – may submit events for inclusion in our website and newsletter calendars. https://www.mondems.org/submit-an-event
MonDems News
Natalie Cline for Congress in Morgantown
Natalie Cline, candidate for U.S. Congress in the 1st congressional district, held a meet and greet in Morgantown on November 13. A native West Virginian, Cline grew up in Williamstown and now lives in Wheeling with her family. She believes her candidacy adds to West Virginians' growing desire to return to their Democratic roots and to a time when creating good-paying jobs was the priority, and to have a Congresswoman who will advocate for their interests and bring home federal dollars.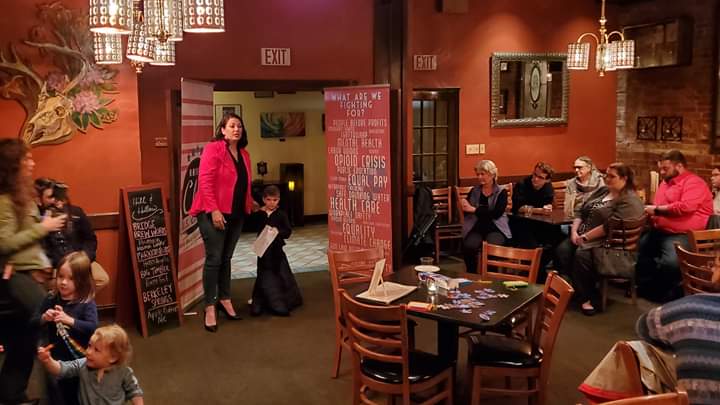 Delegate Hansen Meet & Greet, Op-Ed
Delegate Evan Hansen held a reelection campaign launch party in October in Morgantown, speaking to a crowded room of supporters.
Hansen also had a recent op-ed in the Charleston Gazette on the subject of a "just transition" to a new economy, aimed at deeply appreciating West Virginia's proud mining history while finding and creating new opportunities for laid-off miners and their families – including creating new businesses on former coal mines. Read the entire op-ed here.
Delegate Walker seeking feedback on legislative priorities
Delegate Danielle Walker is asking her constituents to complete a survey about legislative priorities, so she can help make sure those issues get the attention they deserve. You can access the survey here: https://www.daniellewalkerwv.com/2020-priorities
2020 Election Kickoff brings in people . . . and dollars
Monongalia County Democrats gathered to kick off the 2020 political season and raise funds to help elect Democrats up and down the ballot. A number of people donated items for the raffle and silent auction, which generated intense interest from attendees. Thanks so much to Danielle Thomas and her team of volunteers for all their hard work in planning this great event.
Volunteers clean up county road
Over a dozen volunteers came out on a chilly October morning to help with our third and final road clean-up of 2019. Earlier this year we adopted Morgan Run Road through the Adopt-A-Highway program sponsored by the WVDOH. Special thanks to Emilie Marlier for doing such a great job pulling everything together! Thanks also to Cindy Jones for representing the Clinton District Federation of Democratic Women and Rachel Knight from the WVU College Democrats.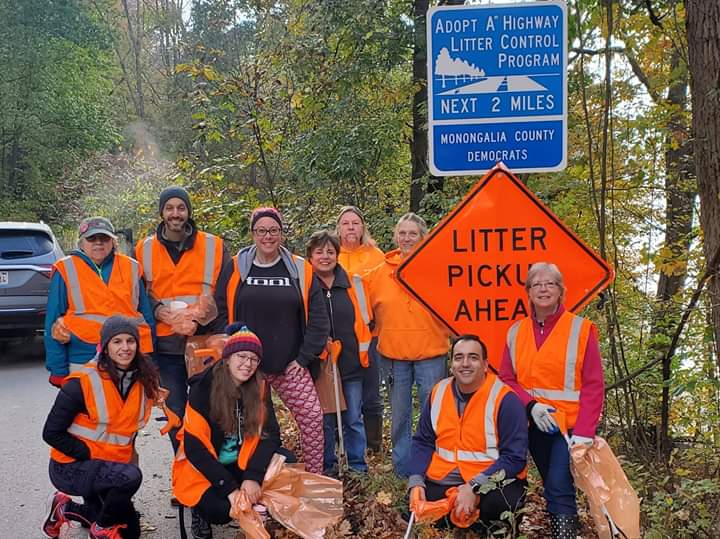 MonDems at the annual Roosevelt-Kennedy Dinner in Charleston
Show your party loyalty with MonDems swag
Monongalia County Democrats t-shirts, buttons, and bumper stickers may be obtained at any MonDems meeting or event, or by email to moncountydems@gmail.com. We ask for a $25 donation for a shirt, $3 for a button or bumper sticker, and $5 for a button and bumper sticker.
Send us your news
We will publish notices of or photos/stories from any events sponsored by Democratic groups, officials, or candidates for office in Monongalia County, or statewide or national candidate appearances in the county. It is the campaign's responsibility to send us the news – we will not hunt it down. The deadline to receive the information is the 15th of the month. Send info and pictures to Susan Case, editor, at susancasewv@gmail.com or send to moncountydems@gmail.com and they will be forwarded.
Spread the word – Please forward this email to friends who may be interested and invite them to subscribe at www.mondems.org.