"Someone struggled for your right to vote. Use it." – Susan B. Anthony
The election we've all been waiting for is here! Absentee ballots are being turned in, early voting is going on, and Election Day is less than two weeks away!
We're grateful to all the awesome Democratic elected officials who have continued to work hard for us in a tougher year than any of us could have imagined.
And, we're grateful to all our volunteers, who have worked hard, too – making phone calls, writing postcards to voters, staffing our headquarters, and doing everything else possible to help elect Democrats.
We're in the final stretch, and we owe it ourselves not to let up, but to keep working as hard as we can in this final week or so. Never forget that local elections can be won or lost by a very few votes, and every vote matters.
Candidates and supporters take to the streets
Horn-honking in Morgantown stepped up a bit this month as Democratic candidates and voters are taking to the streets to wave campaign signs and greet voters on their way to and from work and on other errands.
The feedback from motorists has been overwhelmingly positive, with waves, thumbs-ups, and honking from the line of traffic. (There is an occasional negative reaction, too, but that just fires us up!)
If you want to join the fun, check out our Facebook page, or reach out to your favorite candidate.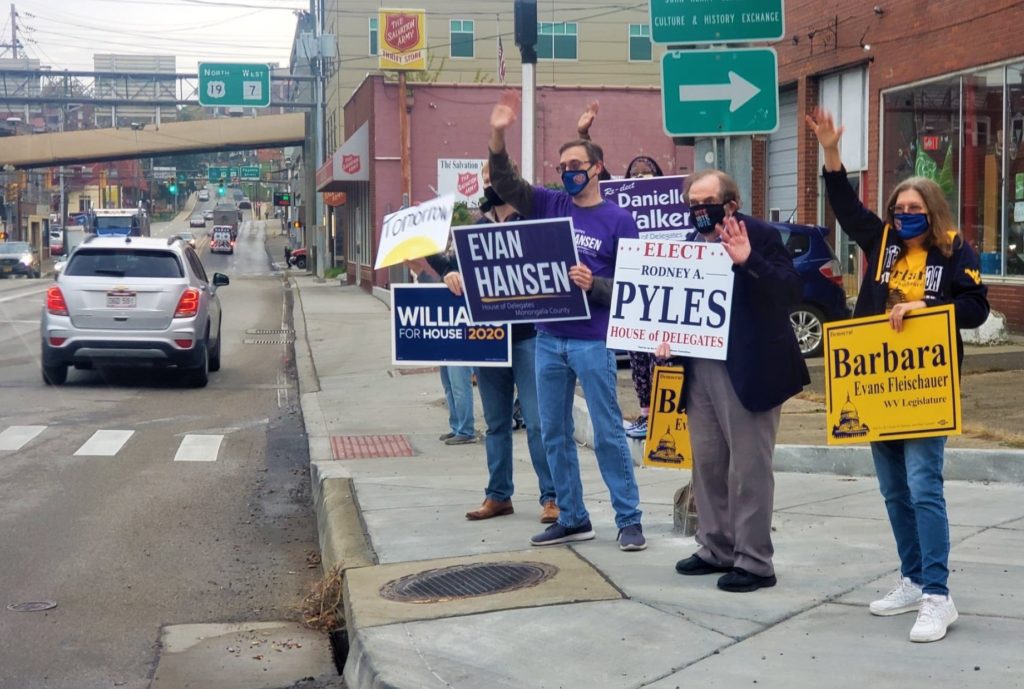 Help!
Will you make a few calls in the next week to help turn out Mon County Democratic voters? It could definitely make the difference in sending the Fab Five back to Charleston in January.
Because of the pandemic, we're not going door-to-door. Instead, we're calling voters who have not yet voted but have a history of voting, to make sure they know their options and make sure their vote is counted.
These calls can be done from anywhere. We can set you up with an online system that will provide you with numbers to call and a script to personalize as you like. Many people don't answer, so you can leave simple messages.
Email emilywomo@gmail.com to get started TODAY.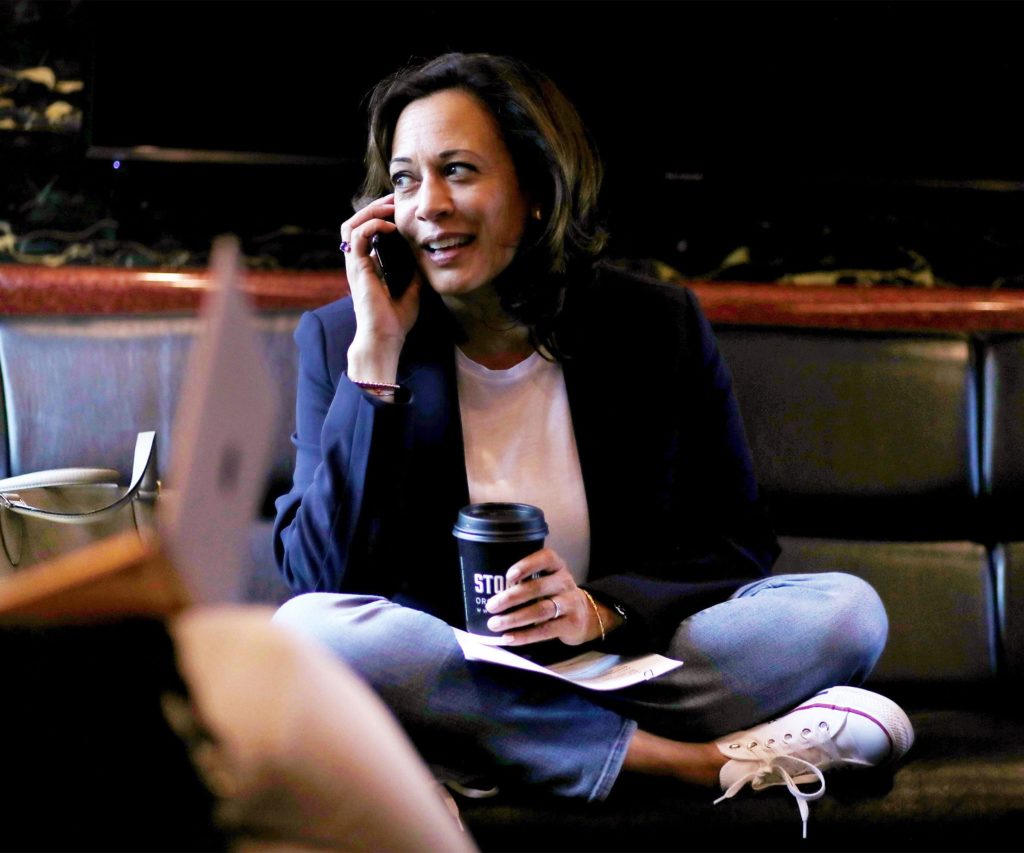 Election Update
If you haven't voted yet, here's what you need to know. With other questions, call the county clerk's office at 304-291-7230, or visit https://www.monongaliacountyclerk.com and click on "Elections."
Absentee Voting FAQ – what you need to know
Q: Can I still request an absentee ballot?
A: The deadline to request an absentee ballot is Oct. 28. At this late date, if you want to do that, we'd advise that you print out a ballot application (download the PDF here) fill it out, sign, and hand deliver it to the clerk in the county courthouse on High Street.
Q: I requested an absentee ballot but haven't received it.
A: Call the Monongalia County Clerk at 304-291-7230 immediately.
Q: I received an absentee ballot, but decided I want to vote in person.
A: Take your ballot with you to early voting or your polling place on Election Day, where it will be voided, then you may vote in person. NOTE: You cannot simply turn your absentee ballot in at a polling place.
Q: What's the deadline to return my absentee ballot?
A: At this late date, best to hand deliver your absentee ballot to the County Clerk's office in the Monongalia County Courthouse (on High Street in downtown Morgantown). The deadline to hand deliver your absentee ballot is November 2 (day before the election.) Go on Election Day – it will be too late! If you must mail your ballot, take it into the post office – don't leave it for your carrier or put it in a blue drop box outside. And do it ASAP.
Early voting
More than 2,500 Mon County voters lined up on Wednesday, Oct. 21, for the first day of early voting. That mirrors results around the state (where more than 20,000 voted early the first day) and around the country.
If you haven't voted yet, walk-in early voting is available from 9-5 every day (except Sundays) until Oct. 31.
Voters can choose from four locations: Mountaineer Mall, WVU Alumni Center, Mason-Dixon Park and the Fort Pierpont shopping plaza. Any Mon County registered voter can vote at any location.
On Election Day, Nov. 3, polls open at 6:30 a.m. and close at 7:30 p.m. You can find your polling place and other voting info at https://www.monongaliacountyclerk.com and click on "Elections."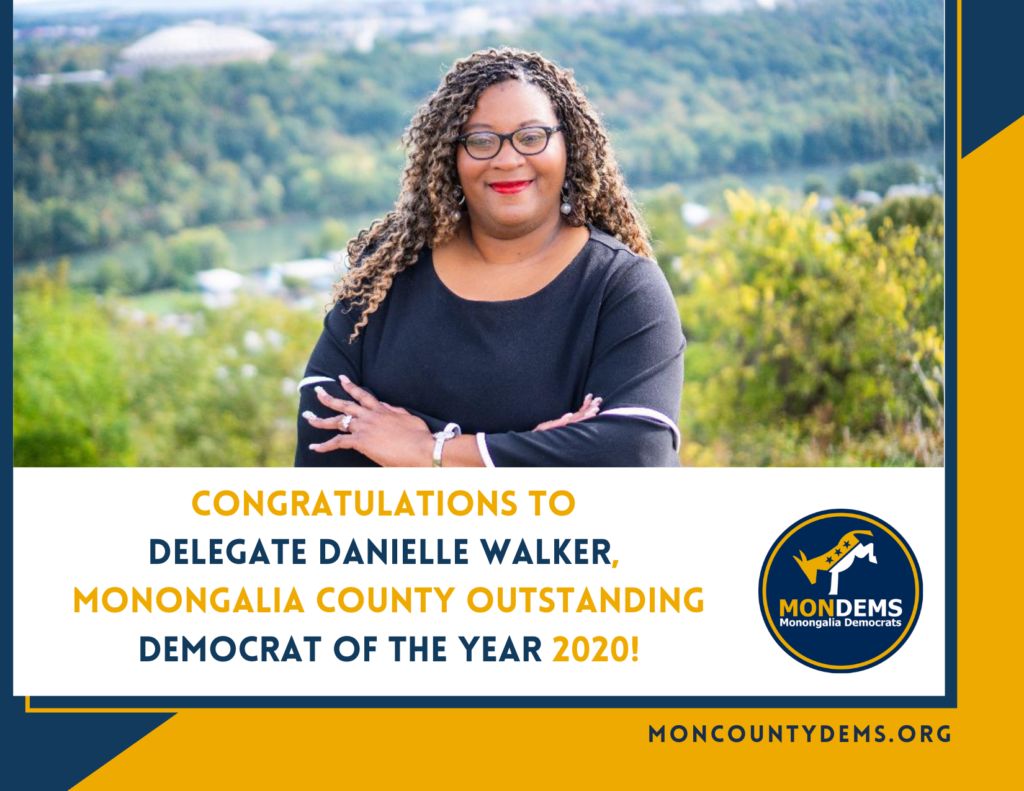 Delegate Danielle Walker is Mon County Democrat of the Year
The Monongalia County Democratic Executive Committee selected Delegate Danielle Walker as the county's 2020 Outstanding Democrat of the Year. One committee member, nominating Walker, said:
"Throughout a year filled with fear, confusion, and instability, we have all suffered. Many of us have struggled to get through our days with any kind of normalcy. Despite this, Danielle Walker has not stopped working for the people. The leadership and strength she has displayed is truly incredible."
The executive committee endorsed the nomination by acclamation. Delegate Walker and other counties' recipients will be recognized Oct. 24 at the West Virginia Democratic Party's Virtual Roosevelt-Kennedy Celebration, which is happening in lieu of the annual RK Dinner.
Congratulations to our friend and excellent representative, Delegate Danielle Walker!
Democrats help Mon County shine
Our thanks to the 12 volunteers (including the amazing Delegate Danielle Walker) who turned out recently to help us keep Mon County beautiful. And, thanks especially to Amy Gentzler for stepping up to organize this Adopt-a-Highway effort. We appreciate all of you.